Fire Protection
Back to Fire Protection
Pembina Hall Student Residence, University of Manitoba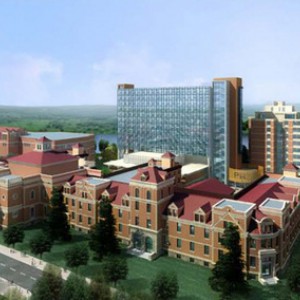 Project Overview
Location: Winnipeg, Manitoba
Facility:
Situated on the bank of the Red River, the new Pembina Hall Building is a fifteen storey student residence housing 360 occupants, requiring sixteen fire protection zones including window protection, with all systems being supplied by a 75hp/750usgpm electric fire pump.  It has been constructed straddling the top of the existing Pembina Hall Structure.
Task:
Design, supply and install code compliant fire protection systems for the University.
Challenge:
Design and install an aesthetically pleasing installation for the architect and residents.
Provide exposure protection to underside of third floor mechanical space.
Solution:
The solutions was to do extensive coordination with all trades involved to enclose all mechanical aspects of the project within bulkheads and provide penetration of the interstitial mechanical floor and soffits to allow for the installation of (110) 48" dry pendent sprinkler heads allowing for adequate coverage for the roof of the existing building being spanned below.